The Annual High School Art Competition is on in Fort Madison!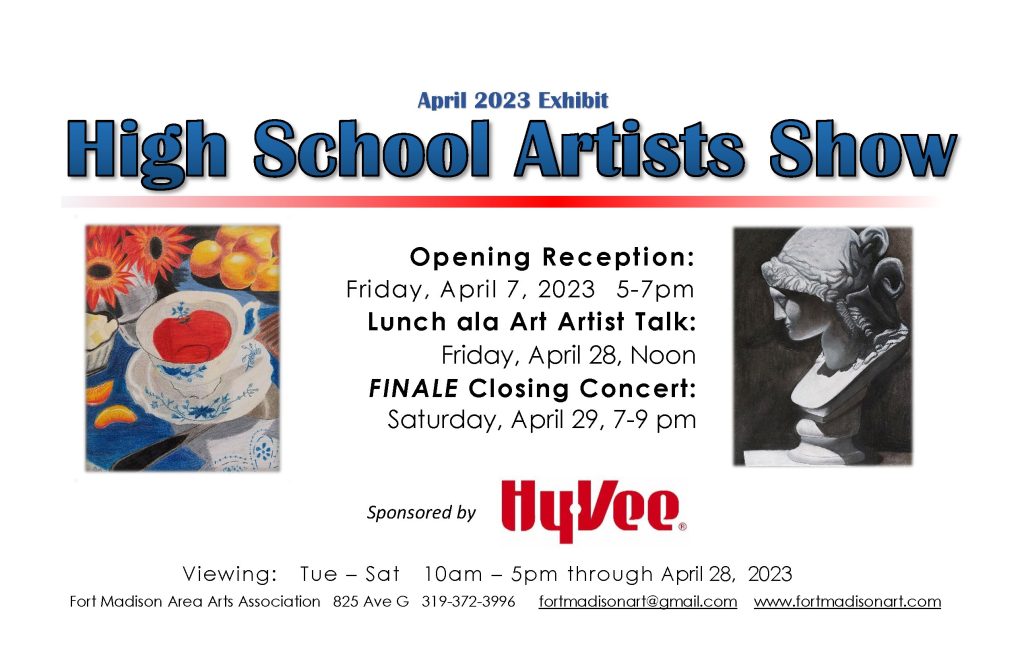 The Fort Madison Area Arts Association is delighted to once again host the Annual High School (friendly) Art Competition at their Art Center located at 825 Avenue G in Fort Madison. The opening reception for this High School exhibit is Friday, April 7 from 5pm to 7pm. High School students from throughout the region participate in this favorite annual exhibition for the month of April in the Main Gallery. These young artists put their creative selves into their work, often with astonishingly good results. The Art Center eagerly puts together a show of this excellent work submitted by the arts instructors from the area schools, then has non-partial judges evaluate it. Awards are issued for each of the media categories of 2D Black & White, 2D Color, 3D, Ceramics, Digital Art, Mixed Media, Painting and Photography but an overall Best of Show is also awarded. Last year, this exhibit only had one digital art submission and the Art Center is looking forward to seeing that category grow over time. Any artist who has work in the exhibition is welcome to attend Lunch ala Art on Friday, April 28 at noon. Lunch ala Art is a monthly luncheon and artist talk where the artist share a little bit about themselves and the inspiration for their work. Reservations for this event can be made by contacting the Art Center or by reserving your spot for lunch via the Calendar of Events tab on our website fortmadisonart.com (the Art Center will work directly with Art Instructors to identify student reservations.) You do not need to participate in the luncheon to attend the Artist Talk.
The exhibition will be on display through the conclusion of FINALE, a free arts performance evening, on the evening of Saturday, April 29. This month, the Fort Madison High School Jazz Bands will be on hand to play a selection of music for FINALE. All are welcome to attend. The FMAAA is grateful to HyVee for their generous sponsorship of this month's exhibition, and for the ongoing support they provide to the Art Center and cultural programming for the region.